Amazing Benefits of Shopify EDI and Shopify Plus EDI
Shopify's business models are aimed at helping businesses set up their online stores and sell products directly to their customers across the world. Unlike Amazon, which has a reputation for setting retailers against each other in a price war, Shopify offers an all-in-one e-commerce platform for retailers to sell their products online, in-store, or on social media networks.
Shopify EDI Integration is paramount for any eCommerce store to effectively manage its resources and deliver an unmatched customer experience. It facilitates integrated business solutions across all the departments such as finance, accounting, HR, and others.
Shopify EDI further ensures seamless communication between trading partners, reducing shipping costs. The flow of EDI documents is much faster and the information sent or exchanged is accurate. It also simplifies the pick, pack, and ship process ensuring that the product gets delivered to its address at a faster rate. Companies looking forward to engaging in business-to-business trading with larger players like Walmart and others can opt for Shopify Plus EDI business models.
Key reasons to go for Shopify EDI Integration:
There are several ways how Shopify EDI Integration can help you enhance your business operations, but the main reasons are mentioned below-
Dropshipping:
Retailers with drop shipping do not require fulfillment centers to pile up their products. Once the order is placed by an online user, the request is directly transferred to the manufacturer/supplier, who then initiates the shipping process. The retailer receives orders and payments online through the internet, which is then directed to the manufacturer for shipment.
Real-time inventory updates:
High-volume brands rely on multichannel inventory management solutions to have complete control and insight into the inventory. This centralized solution offers retailers real-time visibility so as to reduce the time and resources spent on managing inventory.
Demand forecasting:
Real-time visibility enables retailers to track their inventory ratio, which is a key metric in evaluating the success of business sales. This metric gives actual information about the product pricing adjustments and future restocking decisions, improving sales and profits.
Quick Order processing:
Several documents related to EDI interchange can be smoothly processed without any human intervention. These include:
Purchase orders – EDI 850
Advanced Shipment Notices – EDI 856
Purchase Order Acknowledgements – EDI 855
Invoices – EDI 810
Accurate Shipping tracking:
Nowadays, a majority of online shoppers are very keen on knowing the status of their orders at any given time. They want to be aware of every single detail about their order throughout its journey from the warehouse to its final destination. As Shopify EDI integration facilitates real-time visibility and tracking, it proves to be useful in providing all the information needed and enhances customer experience.
Enhanced security:
The error involved in the manual process increases the security risks, resulting in loss of data or critical information. With Shopify EDI, all the business operations are automated and all documents are being exchanged through a secure connection. This also eliminates the responsibility of the resources, who can be used for expanding other areas of the business. Shopify EDI also helps you track the data effectively for auditing purposes.
Maximized efficiency:
With faster speeds, fewer errors, and better visibility, EDI for Shopify offers improved efficiency with high accuracy across all the departments of your business. By eliminating the tedious manual data processing work, businesses can effectively use the resource to work on other aspects of the organization like building customer relationships and add value to the company.
How is Shopify Plus EDI different?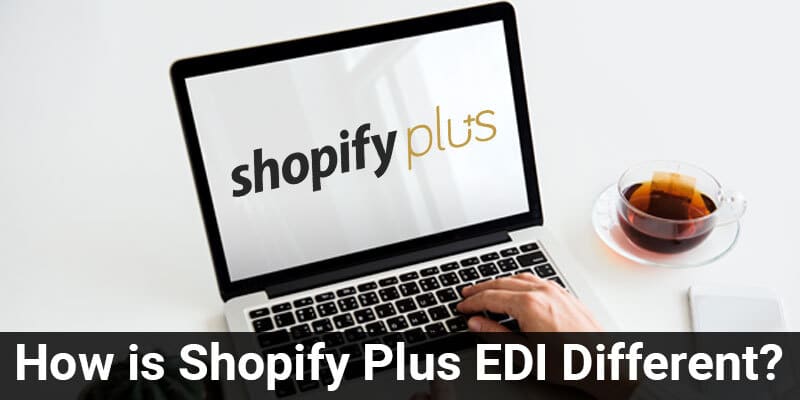 Both Shopify EDI and Shopify Plus EDI operate in the same way and offer the same user experience. Shopify EDI enables you to create an online store so that you can sell your products across all kinds of channels. It guarantees easy management of your inventory with its amazing features and functionalities.
On the other hand, Shopify EDI Plus was mainly developed to attract larger and high-volume brands whose processing power is high and have deeper business needs. This is also ideal for businesses with a vision to expand on international markets. Shopify EDI Plus allows you to create up to 10 different stores and makes it easier to handle different languages and payments with different currencies.
Besides offering all the features and functionalities of Shopify EDI, you have additional flexibility to design a custom checkout process with Shopify EDI Plus. Above all, Shopify EDI Plus sellers are granted a dedicated support person to help them overcome any issues and offer insight into the many analytics tools that eventually help to boost your business sales.
Shopify Plus EDI benefits:
Upgrading to Shopify Plus allows you to use additional features and gain more control over the physical appearance of your online store and enhance its functionalities. Here are a few additional benefits the comes along with Shopify Plus:
Custom Checkout Page:
Shopify EDI Plus sellers have the option to fully customize the default two-page checkout into a single, three-page variation or more as per the seller's requirements. This allows you to create a bespoke checkout experience and maximize your conversion rate.
Launchpad:
This tool allows you to track automated events such as product launches, flash sales, and more. The seller can easily schedule things such as limited-time sales with related price changes at the beginning and end of the event. In addition, there is dashboard functionality for tracking the performance of your events in real-time.
Script Editor Access:
This is perhaps the most important feature Shopify EDI Plus offers. The Script Editor tool allows the seller to develop and write scripts, hosted and executed by Shopify. With the help of this tool you can create:
Tiered pricing table
Blocked promotional codes
Discount offers
Dynamic pricing for high volume products
Conclusion
Both Shopify EDI and Shopify EDI Plus offer powerful tools to design your online store. The choice completely depends on business requirements and needs. Unlike Self-hosted platforms that require software upgrades every now and then, Shopify Plus does not need any upgrade.
So, get started and give your online store an attractive and simplified look…!