Avoid Charge-Back Using Amazon Vendor Central EDI
Amazon as a leading eCommerce platform is just not constituted of a retailer platform in the form of Amazon seller central. Amazon vendor central is an important constituent of Amazon ECO system that provides an opportunity to a manufacture or supplier to have an institutional sales on Amazon. Amazon vendor central differing from seller central is an invite only platform by Amazon. The listing on Amazon vendor central is quite simple and easier for a seller can be summed up in following steps:-
 Amazon sends a purchase order to a supplier asking him to send inventory of goods that it wishes to purchase from a supplier
 Supplier sends required item to Amazon fulfillment centers
 Amazon pays a seller
Where Amazon Vendor Central is different from Seller central is its inability to reach directly to a customer. In an Amazon vendor central business model, it is the Amazon that sells goods purchased from a supplier straight away to the customers. Amazon holds complete control over the pricing policy of the sold goods. Though simpler than seller central, a supplier is not required to press resources for branding and pitching, however, it is infested with harsh contract terms, low prices and unexpected additional costs.
How Does Amazon Vendor Central Work?
Vendor Central is platform that invites entrepreneur and manufactures to become Amazon's supplier. As there are thousands of product types on Amazon that wears out with span of time. To fill out the space created by obsolete products, Amazon has recruitment teams that are tasked to search for new and improved products on sale across the globe. Amazon simply mails new product developers showing interest in their good and commodities. If a new product manufacturer agrees on Amazon's terms and conditions and price has been negotiated mutually, Amazon begins sending him Purchase Order for buying goods and commodities. Amazon Vendor Central facilitates a seller with following business requisites with the help of Amazon EDI Compliance:-
Support for item orders to receive purchases orders and provide shipment information.
Platform for vendors to provide product information in form of image uploads, cost edits and other product related information.
Merchandising support for managing marketing of products in form of product features like Amazon Vine and A+ Content.
Payment support in order to have faster and prompt reach to Amazon invoices and remittances.
Advertising support trough Amazon adverting console where ad campaigns can be easily managed.
Support from and through Amazon Retail Analytics for business reporting for Amazon Vendor Central activities.
Amazon Vendor Central Integration for Efficient and Faster Supplier Transactions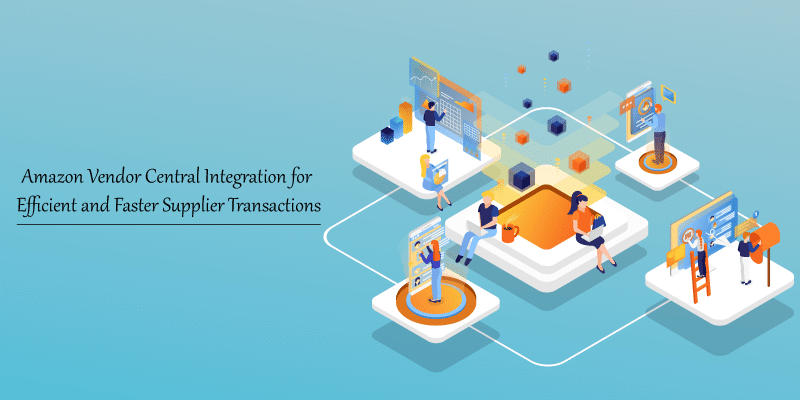 As evident for an efficient and faster data transaction from a supplier's system to Amazon vendor central server, it is very necessary for a seller to have Amazon EDI Compliance. With the Amazon EDI document synchronization between a seller's and Amazon's system, the business process for order-to-cash steps like Purchase Order, ASN (Advance Ship Notice) and others become faster and efficient. The business and advantage offered by Amazon EDI Document with a supplier of Amazon vendor central are like:-
Amazon EDI offering an integration between the systems enables an automated data sharing between Amazon Vendor central and supplier.
Provides and effective and faster inventory management for goods and items shipped to Amazon.
Make data exchange absolutely accurate in absence of manual typing.
With data exchanged between system instantaneous and accurately
entire business process becomes faster and efficient.
Covered within the layers of encryption the data shared between systems happen to be more secure and accurate for businesses
EDI integration completely eliminates manual order processing for Purchase Order Acknowledgments (POAs). It not abided in time charge backs for POA change are 1% lesser of the cost.
Process License Plate Receive (LPR) compliant labels and shipments.
How Amazon Vendor Central integration with EDI is processed and executed?
Amazon Vendor central integration with EDI is consisted of various important business steps for effective and faster scalability in case of business orders increasing day-by-day. In absence of an effective EDI integration, there are best chances that a business may lose valuable time otherwise wasted upon only correcting manual data entries and managing shipments. Below are mentioned steps to include Amazon EDI Compliance into a supplier's system is consisted of following steps.
Buying and installing on premise EDI translator.
Employing a large VAN (Value Added Network) service provider.
Using a simple and effective cloud based EDI software which can be integrated with accounting software's like Quick books for exceptional sending and receiving of EDI messages.
For the Amazon EDI Compliance following business codes and standards are followed like:-
EDI 850 – Purchase Orders
EDI 855 – Purchase Order Acknowledgment
EDI 727 – Routing Request from Supplier
EDI 737 – Routing Confirmation from Amazon
EDI 856 – Purchase Order Confirmation by Supplier
EDI 810 – Supplier Sending Invoices
Tips to Choose an Efficient and Faster Amazon EDI Compliance Company?
There many important steps in choosing the EDI service provider company to establish a seamless business process between Amazon vendor central and its supplier.
The dedicated team should be consisted of efficient and capable

EDI integration professionals.

The EDI integration should be faster and efficient in order to have turnkey solution according to a trading partner's requirement and need.
The payment terms and cost of edi implementation should be competitive and easier.
The company should also be offering around the clock tech support and post implementation services.
Conclusion
Amazon Vendor central Integration with EDI is an imperative activity for a manufacturer and supplier in agreement with Amazon Vendor Central to supply its goods and services to Amazon market place. With Amazon EDI document, supplier side business transactions like PO, ASN and Payments becomes far integrated, automated and efficient.