What Is E-Commerce Integration Service? The Definitive Guide
Firstly, eCommerce means Electronic Commerce or Internet Commerce, this refers to the purchasing and selling of goods/services through the internet and then for executing this transaction transformation of money and data is done.
Now, e-commerce Integration is nothing but the coordination between a business' eCommerce website and its back-end systems, like the ERP or the CRM system.
The integration of an eCommerce application with an ERP lets the manufacturers, wholesalers, and retailers, creating a bi-directional flow of data between the 2-systems. This means they will be only needing to enter the data into a single system.
Example: A company may use an ERP for keeping a track of inventory levels for all of its products. After implementing the direct-to-consumer business model, when a company sells an item online using the new eCommerce platform, the back-end inventory count will be adjusted automatically for maintaining an accurate number of the products. Now, without having an e-commerce integration, this adjustment would have to be done manually in the ERP system and in the eCommerce application.
The e-commerce integration thus eliminates the need of entering the same data into 2 or more systems. It also helps in creating accurate sales information via automated and real-time inventory updates in different systems.
Benefits of eCommerce Integration
The requirement for eCommerce integration has increased amazingly as a lot of companies have embraced online sales, as the retail shops have become less critical. Below are the 5 benefits of adopting an eCommerce integration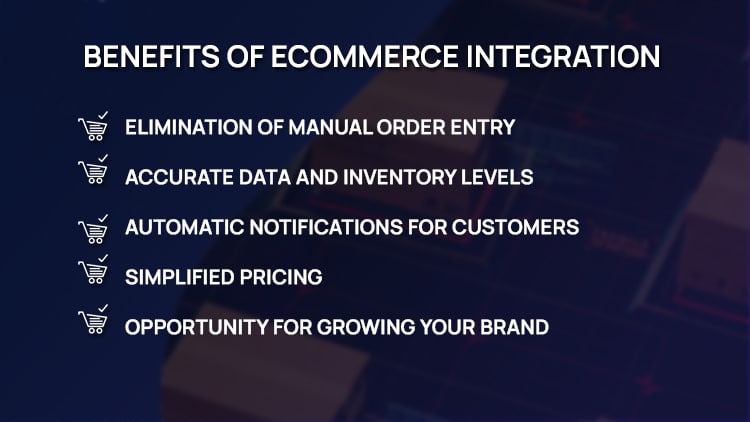 Elimination of manual order entry:
The integration of the eCommerce platform lets the companies remove the manual and duplicated information entry, along with improving the data exchange speed as it integrates eCommerce applications such as Amazon, Shopify, and many others with their own ERP systems.
Accurate data and Inventory Levels:
When the data is entered manually, there is always a chance for error no matter whether the data is large/small. But with eCommerce integration, this can never happen as it has a synchronized inventory, real-time track updates, and costing/pricing. All this happens at full speed as it is done through the data exchange, making it more accurate than ever before.
Automatic notifications for Customers:
As both the eCommerce application and the back-end applications are synced, it eases the work of automatically notifying your customers. Customers can know when the order has been shipped and can also track the delivery of the product.
Simplified Pricing:
Updates of the product information and the changes in the prices are quick and conclusive with only one update in a single system.

The Opportunity for growing your brand through new markets:
By integrating with eCommerce, your business gets the adaptability for entering more online marketplaces along with having all the operational efficiency. More new customers will become available with each new added sales and channels. Also, you'll be able to get diversified revenue streams, enhanced operating margins, and improved customer experience, which are like cherries on top of the opportunity for growing your brand through eCommerce integration.
The companies having an eCommerce ERP integration strategy, are the ones who have embraced modern technology and also recognize the potential ways of eliminating the errors and improving efficiency along with providing exceptional customer services.
Quickbooks Ecommerce Integration:

Quickbooks:
Quickbook is basically a cloud-based accounting software that helps in organizing your data in the cloud, letting you create and send invoices along with tracking the sales. It also lets you know how things are going in your business whenever you want.
The greatest advantage of Quickbook's e-commerce integration is that you need not be a finance or account expert for using this Quickbooks Accounting Software.
Why do we need Quickbooks E-commerce Integration?
When you are managing 2 different types of systems (Quickbooks and your eCommerce platform) isolated from each other leaving you with a huge amount of data for keeping track of. Having such huge data, it becomes easy for making mistakes while entering this data between the two. Moreover, such mistakes have real consequences, affecting your business.
Now, integrating Quickbooks with eCommerce lets you create more efficient and streamlined processes, improving every aspect of your business. Also, it always helps you to maintain your accounts up-to-date giving you a complete grasp on your business inventory and financial accounts.
By integrating Quickbooks and Ecommerce, you will get capabilities such as:
Update item data automatically.
Centralizing the customer's data.
Centralizing the order management.
Making the purchase and order generation processes completely automatic.
Automatic order stats.
Automatically synchronizing the items for updating inventory volumes.
These capabilities help in improving your productivity and efficiency. These act as the main keys to improving your business processes and competing in your market.
E-commerce Website Integration
The integration of e-commerce with your business website is the most important step which lets you have a well-oiled business, letting you have all of your accounting at a single place. Integrating your business to an e-commerce platform does increase your efficiency as it helps in doing so many things in a single place.
Significant improvement in functionality:
Once integrating your e-commerce portal with your main business website, it is a lot more beneficial for both parties. The company people will be able to look into the features and transactions easily. Similarly, the customers can get to know all the details regarding their orders like the shipment date, tracking of the order, and delivery.
Reduction of Cost:
This lets your customers help themselves by getting sufficient amounts of available information and thus reducing the cost of operations.
Increased productivity and saving of time:
Many of the redundant works can be eliminated as the ERP integrates all the web-sales into a single system. This in turn reduces the time used for the order fulfillment cycle.
More Secured-Accounting:
After e-commerce integration, along with your financial reports, the application will also start providing you with balance sheets, cash-flow, P/L statements, and so on. This helps in improving the security along with transparency in the whole organization, as each and everything will be software generated.
Ecommerce API Integration:
API's are a set of procedures and functions that help in creating applications that have the ability to access the data/features of an OS, application, or any other services.
What is e-commerce integration with API?
Not all the eCommerce systems are islands that are disconnected and all alone. The APIs help you connect your e-commerce site with wide many other platforms. Sometimes, the process of API integration can be simple and easy through the existing connections while other times it can be complex and may require custom developments.
Here are some of the systems that you may integrate into:
ERP: As ERP is the central system for most businesses, the integration with e-commerce lets you take product and inventory information along with placing orders for processing.
Accounting: This helps in connecting the transactions with financial details.
Customer Services: Most of the eCommerce sites will be needed to support their customers and answer their respective queries. This can be done either through live-chats, ticketing systems, or through any other process.
Sales and Marketing: Lots of tools can be found for increasing traffic, lead-conversions, and upsell.
Ecommerce Shipping Integration:
The API keys allow you to integrate your shipping automation providers with your backend e-commerce store. Often most of the time, the shipping charges are taken during the one-time set-up, and then only per use fees are charged. These modern shipping integrations with your e-commerce stores, let your business get shipping rates, create shipping labels along with tracking packages at a single place.
These robust e-commerce platforms give you many options for setting your shipping, add handling charges, weight-based shipping, location-based shipping, and quantity-based shipping. All these things let your shipping processes be more easy and efficient.
So, what are you waiting for? Integrate with e-commerce and get your business to the next level, have an edge in the competition, and beat your competitors.