What is EDI Capable and Why is it Important for your Business
Today, whenever someone talks about EDI and its advantages to improve your productivity, the first question that comes to your mind may be "what is EDI capable?". It is followed by related questions such as how to become EDI capable and what are the benefits of becoming an EDI capable? Let's find out the appropriate answers to these questions.
In simple words, your business is EDI capable means it is competent enough to incorporate an EDI system into your business processes. The main objective of this will be streamlining your business communications with your trading partners. For instance, suppliers, vendors, customers, and other stakeholders. 
Even though being EDI capable seems pretty simple in the first instance, yet, it involves a large number of complexities within it. Many of the well-established business owners and new entrepreneurs may not have a complete understanding of EDI capable meaning. Their knowledge about EDI capacity requirements and its advantages for business growth is still limited to a certain extent.
Therefore, now, let's study all the important aspects associated with the term EDI capable one-by-one: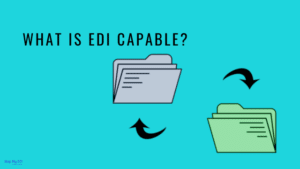 What is electronic data interchange EDI capable?
As mentioned earlier, the term EDI capable refers to your business ability in the seamless incorporation of EDI solutions into various business processes. If your business is EDI capable, then, it must be able to exchange crucial business documents from one system to another through a variety of communication protocols. 
With EDI, your business should be able to receive and send important business documents to your trading partners electronically. For instance,
Invoices

Purchase orders

Advanced ship notices

Bills of lading

Inventory documents

Customs documents

Shipping documents

Payment documents
The well-built data-formats such as EDIFACT, VDA, EANCOM, ODETTE, HIPAA, GS1, HL7, X12 and many others are used for this purpose. Utilizing these standard data formats is the most significant aspect of EDI since the exchange of documents will be effective only if both, the sender as well as receiver systems are working with similar data-format. The implementation of EDI is completely a B2B approach, through which, any number of business documents can be easily transferred from one corner of the world to another. 
The Electronic Data Interchange covers all the crucial business aspects including management, governance, on-boarding strategies, and many more. And, the ultimate goal of incorporating an EDI system into business models is to drive productivity as well as efficiency.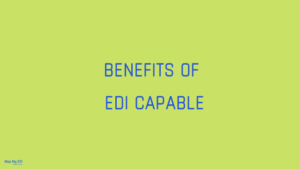 What are the benefits of becoming an EDI Capable?
The incorporation of the Electronic Data Interchange (EDI) system offers numerous advantages for your business. First and foremost, it streamlines your communication with your trading partners. Since all the EDI documents will be created by following a specific set of standards, uniformity can be easily observable in the data – presentation. As a result, the business/system at the receiver-end does not require modifying any of the documents as per its specifications. It saves a considerable amount of time and effort that is spent on converting these documents. 
Apart from this significant benefit, EDI also offers many advantages in regard to five important aspects. 
Reduces working capital expenditure: 
The incorporation of EDI assists in saving a significant portion of your working expenditure. As the exchange of all the business documents is done electronically, there is no need for any kind of paperwork. The expenses linked with printing, recording, stockpiling, and postage will get eliminated with it. Also, the costs associated with the service level agreements, payment delays, etc., can be avoided since consistent and timely information flows through the entire supply chain. According to the EDI experts, the considerable reduction in the paperwork can bring down the related expenses up to 35% which is remarkable.
Fastens the document exchange: 
As the EDI automates all the processes of your business, it speeds up all the exchange of business documents by 50-60%. Any financial/logistic document can be transferred to your trading partner's system within a couple of minutes. Whatever information that has been exchanged through EDI will be accurate, reliable, and free from errors. It not only improves your efficiency but is also useful in taking timely actions. On the other hand, in the case of postal service or any other means of slower transportation, it takes several days or weeks to exchange the documents. Also, the risks involved with accurate data or data tampering will be higher in such cases.
Through automating the data entry, EDI assists in reducing the occurrence of errors to a great extent when compared to the manual data entry. The available data will be highly accurate, valid, and trustworthy. With it, you will be enabled to make the right decision at the right time. Most importantly, the occurrence of errors due to incorrect data taken on the phone or other communication platforms can be eliminated with automated data entry. As a result, the amount of data disputes reduces greatly which saves your staff's valuable time. 
With automation, EDI facilitates the processing and exchanging of business information with higher accuracy and a negligible amount of errors. So, you will be able to see improvement in your workflow throughout your supply chain. The exchange of crucial documents at the right time with real-time tracking can be seen as well. It builds transparency among your trading partners and strengthens your relationships with them.
As the EDI provides accessibility of business documents to only authorized users, there is a minimum risk of data tampering. Also, it offers secured communication protocols and tracking/audit trail facilities. 
How to become EDI Capable? 
As mentioned above, the primary goal of EDI is to improve all the vital business processes. Among them, the processes linked with finance and logistics remain at the forefront as most of the documents shared through EDI belong to these.
Irrespective of your business size, you can smoothly integrate EDI with your processes to streamline various workflows. It facilitates the seamless exchange of your crucial business documents with your trading partners through an integrated and automated platform. But, the implementation of EDI is not an easy task and involves many considerable challenges.
Before integrating EDI into your business, you must meet certain terms on B2B transaction protocols and document data formats. Apart from that, you need to take many key aspects such as security mandates and communication methods into consideration. These might seem fairly difficult to work with at first instance. But, they all turn much simpler when you start grasping the things one-by-one.
Now, before we go to define EDI capable framework for your business, let's try to understand what kind of EDI solution best suits your needs.
Which is better: In-house or outsource?
Today, you can easily adopt EDI and supercharge your business growth. It can be accomplished in two ways: outsource your entire EDI integration or develop an EDI capable software (in-house EDI) and execute it yourself. 
At present, many firms in the market offer essential assistance for your business in this regard. They will study your business processes and list down all the processes that need to be automated. Based on your business requirements, they will develop an EDI solution and integrate it with your processes. Most importantly, they assist in maintaining as well as updating your system on a regular basis.
On the other hand, buying EDI capable software from the market is also advantageous in some ways. Many available well-developed EDI software offers several unique features at reasonable prices. However, you need to overlook certain aspects as many of the software are not specifically designed to meet your business requirements. Further, you will be restricted to use only those features that are offered by the developers.
Let's have a quick look at a few more differences between out-sourced EDI and in-house EDI:
Outsource EDI:
No need for investing in hardware or software

Any kind of alteration in the system can be easily made 

Frees up IT department and other supporting staff

No need to hire new skilled employees

Maintenance and system updation will be managed by the outsourced firm
In-house EDI:
Need to invest in both, hardware and software

Custom-made to fulfill your business needs

Demands availability of on-site staff with EDI knowledge

Hiring of new skilled staff and training of existing staff is essential

Maintenance and updating of the system should be managed on your own
Whether you choose an outsourced firm or manage EDI solutions by yourself, just make sure of one thing. Your EDI solution must deliver scalability as well as flexibility in the future as per your business requirements.
How to frame an EDI solution? 
An EDI solution simplifies most of your complex business processes and improves your competence. However, its implementation demands a strategic planning and tactical approach. 
The following list comprises 9 essential steps for designing an EDI solution for your business. They are:
List down all the requirements, constraints and areas of improvement

Establish a strategy for integrating EDI along with the schedule

Choose an advanced EDI solution with hardware/software

Take the count of existing inventory of the systems

Identify the additionally required systems and resources

Select appropriate EDI format capability and integration model

Hire or allocate skilled staff for monitoring the EDI system 

Integrate and execute the strategy

Update the solution and train IT/EDI staff regularly 
In the above steps, there is a mention of selecting an appropriate EDI format capability. You may ask now, what is EDI format capability? Let's figure it out.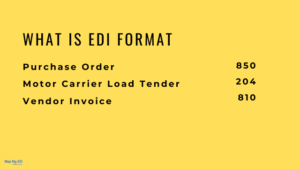 What is EDI format capability?
It is the capability of sending and receiving crucial business documents electronically in a specific format defined by the EDI standards. All the EDI documents must be created as per these standards which state a particular location for every unit of the data. 
Three major EDI format capabilities are there which are most essential for EDI.
They are:
EDI format capability 204

EDI 850 capability 
EDI format capability 204 – Motor Carrier Load Tender
The EDI 204 is mostly used by shippers (for instance, manufactures, wholesalers, distribution centers, and 3PL firms that handle shipments) to request a shipment. Usually, it will be submitted to a full truckload motor carrier and can be used to generate a new shipment or to cancel a shipment. Besides, it can be also used to replace an existing shipment or to modify it.  
A standard EDI 204 communicates all the crucial information related to pickup and delivery of a shipment. It will include  
Description of products 

Carrier Identification (CID)

Pickup/delivery schedule

Equipment and other requirements related to a transport truck

Delivery/shipping address

Contact details of the shipment recipient

Name and address of consignees, if applicable

Shipping instructions
It can be clearly seen that EDI 204 mainly communicates all the necessary information related to shipments. Besides, as it also provides the shipment requirements, the carrier will become enabled to make the right decision on shipping costs. The carrier will respond to it with EDI 990 document – Response to a Load Tender, indicating whether he accepted or declined the shipment offer. Further, in case of acceptance, he will provide the EDI document – Shipment Status Report to inform about the pickup and delivery schedule. 
In short, EDI format capability 204 determines your ability to generate EDI 204 documents and communicate the shipment-related information to your shipping carrier in an effective manner.
EDI 850 capability – Purchase Order
The EDI 850 document is used to request a set of goods/services and often incorporates
Product descriptions (type, quantity, and price)

Payment terms and discounts

Billing and shipping information

Name and contact details of the carrier

Shipping instructions
Also, several other EDI documents can be sent along with this EDI 850, for example,
EDI 810 – Vendor Invoice (an electronic invoice)

EDI 855 – Order Acknowledgement

(to conform all the requirements mentioned in Purchase Order can be meet)

EDI 860 – Order Change Request (to request for updating or modifying the original purchase order)

EDI 856 – Advance Ship Notice (to give information on the contents of the shipment or their packaging) 
Your EDI 850 capability, determines your ability to organize all the information in segments as per international standards. It is highly essential because a purchase order will be sent, received, as well as interpreted by a computer and there will be no intervention of any human being. 
EDI 810 capability – Vendor Invoice
This EDI 810 document will be sent as a response to EDI 850 (i.e. Purchase Order) as a payment request after receiving the goods/services. It usually includes
Invoice details (Invoice number and issue date)

Order information (product types, quantities, and prices)

Terms of payment

Discounts
A few other EDI documents can be sent along with the EDI 810. For instance, 
EDI 997 – Functional Acknowledgement (for confirming the receiving of EDI 810)

EDI 864 – Text Message (for reporting the presence of any violations within the invoice)
Your EDI 810 capability, decides how easily you will be able to streamline the work processes across your supply chain and improve the overall output. The automation eliminates all the tasks associated with receiving vendor invoices through email or fax and then re-entering the details into other systems. It not only assists in saving your resources but also reduces the human-made data errors to a greater extent.
As you already know that an effective EDI can enhance your logistics and supply chain management. In this context, the term EDI capable trucking is gaining wide recognition these days.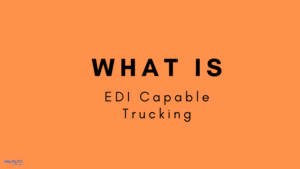 What is EDI Capable trucking?
Let's consider an example before trying to understand the EDI capable trucking definition. A firm named A hires the carrier B to deliver a shipment at the store C through the phone. The dispatcher of carrier B receives the details of the shipment and enters it manually into its system. Let us assume that all this entered information is accurate.
The carrier B sends a truck for picking the shipment and delivering it at store C. After picking up the shipment, the truck driver notifies the dispatcher and moves towards store C.
In the meantime, an employee from store C calls the firm A  to find out the arrival timing of the shipment. A person who is in charge of the supply department at the firm A calls the dispatcher, who calls the truck's driver to get updates.
After talking to the driver, the dispatcher calls back the firm A and informs about the truck's current location. Then, the in-charge of supply at A notifies the employee of the store C. At the scheduled time, the truck arrives at store C and unloads the shipment. The driver takes the signed delivery documents and starts his journey back to carrier B.
At the same time, the salesperson of firm A calls the dispatcher to make sure that the products are delivered. The dispatcher calls the driver, finds out about product delivery and calls back the salesperson.
When a driver submits the signed delivery documents at carrier B, the billing clerk generates an invoice and sends it to the firm A. After a few days, when the firm A receives the invoice, the employee of the financial department enters the details into the system and issues a payment check. In between, the billing clerk at carrier B calls the firm A several times until the arrival of check at his desk to close the transaction.
The entire process appears tedious and time-consuming. But, the integration with EDI can make this entire process pretty simpler with just five EDI documents and EDI trucking software.
The EDI documents that are used in this process are
EDI 204 – Load Tender

EDI 990 – Response to Load Tender

EDI 214 – Carrier Shipment Status

EDI 210 – Carrier Freight Invoice

EDI 997 – Acknowledgement
Let's see the above-mentioned situation in the context of EDI. The firm A hires carrier B after receiving an order from the store C. It will send an electronic copy of the order to the carrier B's trucking software through the EDI 204 – Load Tender. The trucking software immediately responds by sending EDI 997 – Acknowledgement, to indicate that the order has been received. Later, it sends the order copy to its dispatcher, who returns EDI 990 – Response to Load Tender to firm A, indicating that the order has been accepted.
Upon arriving at the firm A, the truck driver picks up the shipment and updates the trucking software through an on-board mobile device. Immediately, the trucking software forwards an EDI 214 – Carrier Shipment Status to the firm A to inform it about the shipment's pickup. This EDI 214 gets automatically updated in the firm A's database. When the salesperson sees this, he will come to know that the shipment has been picked up already.
Throughout his journey to store C, the truck driver keeps updating the trucking software and informing about his locations periodically. In the meantime, the trucking software continuously generates EDI 214 documents and keeps updating the firm A's database about the location. When the shipment is delivered at store C, final EDI 214 will be sent to firm A and notify it about the unloading of the shipment.
After delivery, an employee of carrier B generates EDI 210 – Carrier Freight Invoice and sends it directly to the firm A. A system at firm A updates the list of payables and marks this invoice as ready to be paid. 
With EDI, the pick-up to paid-time gets reduced to a great extent that can easily be seen in the above example. The only thing is you need to invest in the EDI capable trucking software. 
The EDI capable trucking means you are required to integrate your EDI with trucking software that facilitates the exchanging of different EDI documents. 
In addition to the EDI capable trucking, another term, EDI direct connect capabilities is also highly popular in the domain of EDI nowadays. 
What are EDI direct connect capabilities?
Also known as Point-to-point EDI, the EDI direct is used for establishing a single source contact with your trading partner(s). In this, you will be connected with each of your trading partners through a separate communication protocol. The process becomes fairly resource intensive as it results in multiple connections since different trading partners may prefer different communication protocols. Mostly, it is used by firms operating in large-scale and often exchange EDI documents in large volumes. 
To achieve EDI direct connect capabilities; your system should be capable of supporting different types of communication protocols. You are required to buy a software package that facilitates multiple communication protocols. For example, SFTP, AS2, FTPS, and many more. While choosing the software, you must take your future requirements into account as well. More importantly, you need to make an agreement with each of your trading partners on the usage of any of these protocols as well as security settings.
Wrapping up
Today, the integration of EDI into business processes is becoming essential to survive in this competitive world. An effective EDI streamlines your workflow, improves your efficiency, and boosts your productivity. Thus, make your business electronic data interchange EDI capable. And, leverage this advanced technology to drive your business growth.
Hope this article have provides better information related to EDI Capable. If you have any doubt then talk to our EDI specialist.